Arcade Operator (Test ROM Edition v0.3)
A downloadable game for Windows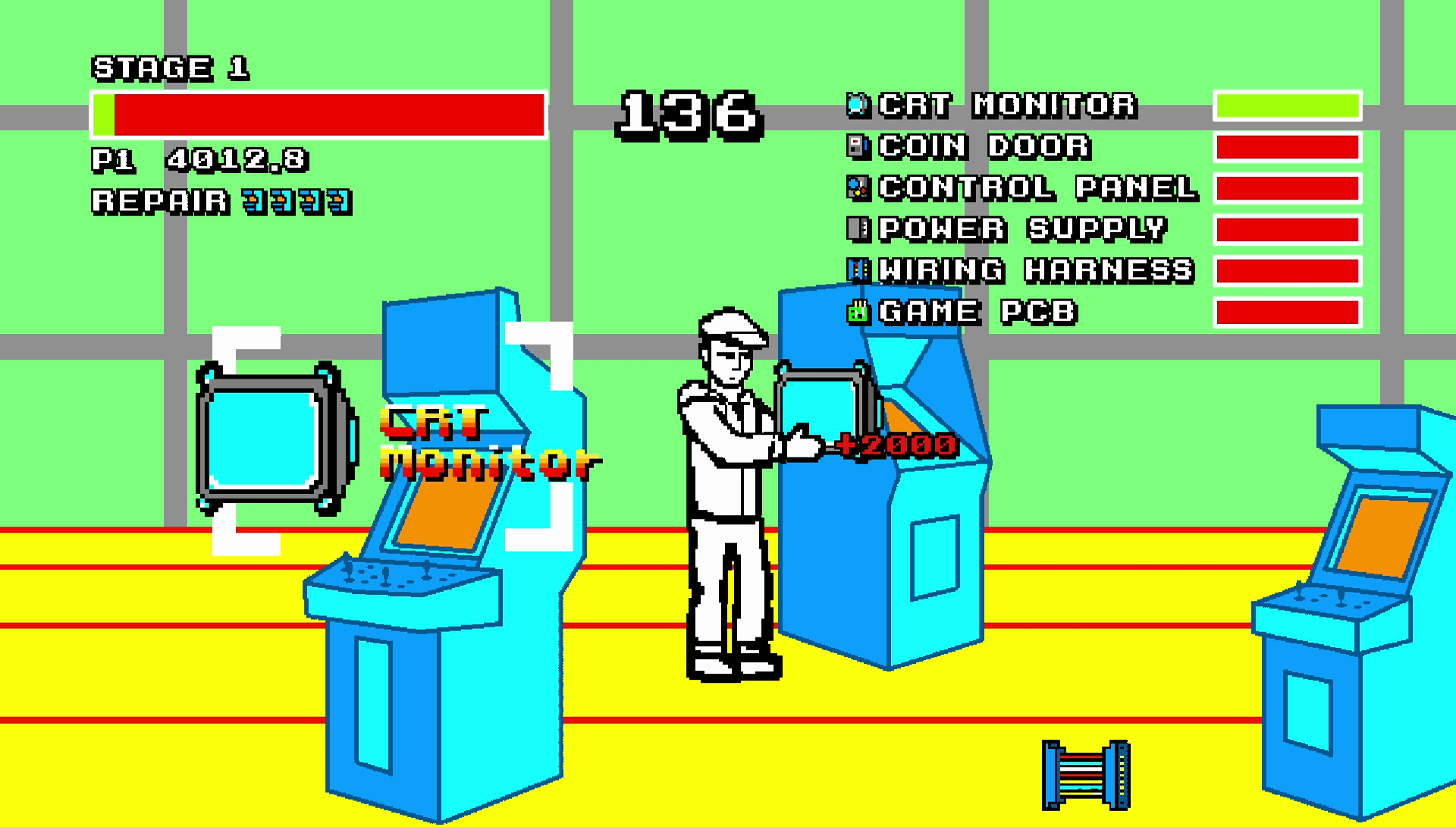 An experimental art-game about arcade repair.
http://kierannolan.com/arcadeoperator
Test Rom Edition v0.3 (1 level demo)
Description:
---------------
Arcade Operator is an experimental meta game where the player takes the role of a videogame arcade operator. It is a self-reflexive artefact, an art game that uses the arcade videogame interface as a medium through which to examine its own connective properties.
Instead of playing the coin-ops present in the diegetic space of the onscreen arcade, the player must interface at operator and technician levels by maintaining the game cabinets. Arcade Operators style of interaction is based closely on the sideways scrolling brawler sub-genre of arcade gaming, although with the fundamental change of including no violence. It switches the user context to a non-gameplay mode of interfacing with arcade videogame platforms, albeit in an abstracted form through an arcade play mechanic.
Instructions:
---------------
You must repair all the arcade videogame cabinets before the time limit runs out and the arcade opens for business.
Each arcade cabinet has 6 main components, these are:
CRT Monitor
Power Supply Unit
Wiring Harness
Game PCB
Coin Door Mechanism
Control Panel (Joystick or Steering Wheel)
Each component is located in a different part of the cabinet, some of these are more immediately obvious than others. The PCB, PSU, and wiring harness are all located together in the back of each cabinet. The control panel, monitor, and coin door each have their own separate locations, visibly identifiable on each cabinet.
Use the action button to repair the cabinet. Each cabinets repair progress is reflected by the green horizontal bar beside each component icon. The overall repair status of the arcade is shown by the large repair bar located on the top right of the screen. The arcade space has a limited number of spare parts that will help speed up the repair process. Using the wrong spare part on the wrong area of the cabinet will inflict damage on the arcade game, leading to more time spent repairing it. Repair all the cabinets fully before the time limit expires to complete the demo level.
Controls:
---------------
Arrow keys: movement in 8 directions
Z key: repair
X key: crouch
walk over item + X = pick up item
down + X = drop item
R to reset back to title screen
P to pause
Notes:
---------------
This is the first release, the game design is still in development, and your feedback is very welcome! Arcade Operator: Test ROM edition features 1 level, future versions will introduce a more structured, level based challenge, as well as bonus stages.
kieran.nolan@gmail.com
Download
Download
Arcade Operator - v0point3 - PC Version.zip
10 MB